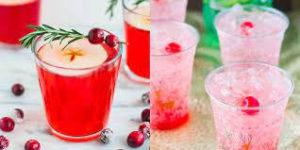 After Zooming the holidays in 2020, more families and friends are celebrating in person this holiday season. To help your family and friends stay as safe as possible, refer to Illinois Department of Health's holiday guidance and consider this fun change to your drink menu.
Help everyone feel welcome at your holiday gatherings by offering a variety of festive, non-alcoholic options for those who cannot or choose not to drink alcohol:
Serve just as many (or more) attractive non-alcoholic options to ease the pressure and unspoken expectations to drink when family and friends are given only limited options. By offering attractive juices, smoothies or sparkling beverages, the decision to reach for a non-alcoholic choice becomes convenient and acceptable. As the party host, take one for yourself to help reinforce that non-alcoholic options are for everyone, not just kids.
Offer festive, non-alcoholic holiday favorites, a steaming cup of white hot chocolate or apple cider to bring warmth and joy to your guests.
Honor your guests with holiday themes highlighting the spirit of the season over activities or games that emphasize drinking.
Help everyone at your celebration feel the holiday cheer with these additional tips and festive fun drink recipes.