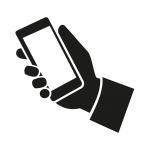 Want help for yourself or for a friend?
Download the Text-A-Tip app below or text the code "224HELP" to 844-823-LEAD
(844-823-5323)
How It Works:
Anyone who sends a text message "224HELP" or "224AYUDAME" to 844-823-LEAD (844-823-5323) will receive an immediate text response from a trained, professional counselor provided by LEAD (Linking Efforts Against Drugs). The response team consists of licensed/certified mental health professionals from The Child, Adolescent, and Family Recovery Center in Lake Bluff. They are local clinicians who already understand the needs of our communities.
More about Text-a-Tip
Thanks to a system that routes calls through a cloaking server, texters are completely anonymous, allowing teens freedom to reach out for help without fear. In the case of a life-threatening condition, emergency responders will be notified and be given as much information as is available to help the person in need. Text-A-Tip is available for communication of any kind of concern, though it is primarily intended for community members to use when they need immediate mental health assistance or have a drug/alcohol abuse concern for themselves or a friend. Please note that adults can also use the service to report concerns.
Lake County Help Text-A-Tip App
Lake County Help is an app intended for residents of Lake County, IL and surrounding communities. Included in this app is access to a 24/7 anonymous text crisis line (Text-A-Tip), access to the law enforcement assisted diversion drug treatment program (A Way Out), signs and symptoms of an overdose, and information about Naloxone (Narcan) and the Illinois Good Samaritan law.