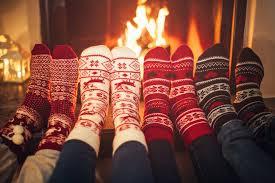 Picture cozy blankets, crackling fires or cocoa by candlelight and you have a good sense of "Hygge" (pronounced hoo-gah). Hygge is a delightful Danish word that captures atmosphere and experience. It describes a feeling of home and being safe, no matter what is happening in the world. Hygge is finding togetherness and gratitude in life's everyday moments.
As we spend more time inside amid the winter pandemic, incorporate a little "hygge" into your family routine. The best part is that it requires almost no extra effort, planning or cost. Here are some ideas for hygging with your children:
Put the phones away and focus on the here and now with your child or teen. Twenty minutes of undivided attention, time for answering questions, or storytelling may be just the bonding everyone needs.
Enjoy a wood-burning fire or winter bonfire while snuggling under soft blankets, drinking warm mugs of tea or cocoa and re-telling fun, family stories.
Create a "hyggekrog" (cozy nook) — a quiet space that could triple as a fort, reading corner or special hideaway.
Have breakfast for dinner. It's a break from the usual routine and best enjoyed in cozy pajamas.
Dress in layers and spend time in the fresh air to clear the mind, lower stress and get the blood pumping.
Be "hygge-spreaders" and look for ways that will make someone's life a little easier and their days a bit brighter.
Here are additional ways to find hygge this winter season.
It's not one 60-minute conversation.
It's 60 one-minute conversations.