Tips to Stay Active from Park District of Highland Park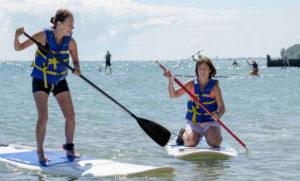 We are all managing additional stress related to the COVID-19 pandemic and its potential threat to the health of ourselves, our families and our communities. More than 42% of people surveyed by the US Census Bureau in December reported symptoms of anxiety, an increase of 11% from the previous year.
According to the Mayo Clinic the best way to relieve stress is to get active. Even if you're not an athlete or you're out of shape, there are many ways to get moving and reap the benefits. Summer is a great time to start learning new ways to build emotional resilience and physical health.
Create a family bucket list of 12 "must do" outdoor activities, one for every week of summer. Below are some great options:
Can you canoe? Spend a tranquil summer afternoon (June 27 and July 31) paddling the beautiful Skokie Lagoons with Heller Nature Center.
Walk 100 miles. Challenge each other to walk 100 miles over the summer. The first one to meet the goal gets a coveted prize.
Bike the parks. Do a bike tour of your hometown's parks. Take the tour in one day or split up the town and tour over several days.
Play a round of mini golf. Head over to the Highland Park Golf Learning Center and challenge each other to a round. Winner gets an ice cream cone.
Try an outdoor fitness class. The Recreation Center of Highland Park offers outdoor family fitness opportunities.
Challenge others to tennis or pickleball. The Park District has tennis courts at 9 different park sites throughout the city. Dedicated pickleball courts are also located at Danny Cunniff and Woodridge Parks.
Go for a swim. The Park District offers opportunities to swim at both Rosewood Beach and the Hidden Creek Aqua Park.
Stand up paddle or learn to sail. The North Shore Yacht Club offers sailing, paddling or kayaking classes on Lake Michigan.
Take your furry friend to the park. Play "off leash" with your dog at the Debbie Beitler Dog Park.
Play a game of basketball. Outdoor basketball courts are located at numerous park sites throughout the Park District.
Try frisbee golf at one of two frisbee golf courses located at Danny Cunniff and Larry Fink Parks.
Explore nature. The Heller Nature Center is a 97 acre preserve with more than 3 miles of trails.
Elizabeth Gogola
Director of Communications & Marketing
Park District of Highland Park
For a complete listing of local summer outings, events, camps and classes, please visit Park District of Highland Park or Deerfield Park District.
Photo courtesy of Park District of Highland Park