Spread Goodness to Others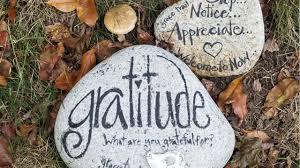 Research shows that expressing gratitude has a wide range of benefits, including:
Reducing stress and anxiety
Boosting mood
Re-focusing on what you have versus what you lack
Strengthening your immune system
Improving sleep
Sharing gratitude is one way to lift our spirits this holiday season and can be easily built into your family's holiday plans:
Shop a local business in person or online. Personally thank the store owner and employees for their time and investment in your community.
Write a thank-you note. Let someone who has made an impact on your life know how much they are appreciated.
Keep a gratitude log or journal. Have a set time each day to write down 1 or 2 things you are grateful for, and share them with your family.
Sources: Coronavirus-Anxiety-Workbook and Harvard Health on Cultivating Gratitude
It's not one 60-minute conversation.
It's 60 one-minute conversations.